Hand

Spinning News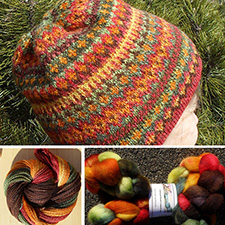 Out like a lamb
With Spring just around the corner, it's time once again for some cute lamb images, the next generation of the source of our raw material.
But the weather hasn't been spring-like yet and there are still many hats and scarves among this month's blog posts.
So on with this month's selection which is filled with fluffy fascination, fun and free patterns
(photo right: Pat's Handspun Waterville Hat.)
Top Stories
Contents
---
News, resources and articles from around the web
---
From the blogosphere
DIY corner

discuss any of this
---
Gallery
Sometimes just a picture is enough
---
Sponsored feature

I'm very happy to have met up recently with Alison Daykin of Alison Yule Textiles. Alison is my teacher, she introduced my Mum and myself to spinning at a weekend retreat.
Alison manages to fit quality design projects around a busy teaching schedule. You may also recognise her name from regular contributions to Yarnmaker magazine.
Briefly describe yourself and what you do
I'm a woven textile designer and tutor of spinning, weaving and dyeing. I design and hand weave bespoke fabrics for interiors and fashion.

Do you have a favourite design/weave project and do you have anything special in the pipeline at the moment?
I enjoy most of my projects, but loved my Haddon Hall project, an interiors collection based on a beautiful painted motif from the chapel at Haddon Hall. I developed this into a range of wall panels, cushions and window panels for 100% Design and have subsequently redeveloped into a fashion fabric using the Theo Moorman inlay technique!

My current projects include updating and developing all my workshops. I've included the Theo Moorman inlay technique for weavers, including rigid heddle weavers with two rigid heddles.
How long have you been spinning / dyeing?
I've been weaving since I was 8 years old! At the age of 6 my sister, who's 7 years older than me came home from her senior school with a small woven scarf she'd made I couldn't believe you could make your own fabrics. I pestered my parents for the next 2 years to buy me a loom and finally got a small Spears Rigid Heddle Loom and made everything in the book and more until I finally got to the same school as my sister.

At the school, a technical Grammar school in Derby, the craft class taught pottery, sculpture and weaving. I enjoyed pottery, but didn't like getting my hands dirty, I couldn't see the point of sculpture, I'm a bit like William Morris, I don't have anything in my home that's not functional and beautiful! But when it came to weaving it felt right and I took an O and A level in Craft, Design and Practice - Weaving.

I was introduced to spinning and dyeing at school during the A level, but began spinning in earnest in 1981 when I joined our local Guild of Weavers, Spinners and Dyers.
What or who inspires you?
Bernat Klein was the biggest influence on me, he pushed the boundaries of weave with unusual colour and textural combinations, designing for the likes of Chanel, etc.
What aspect of your work do you enjoy most?
It's the designing and sampling that I enjoy most of all, trying out new ideas, etc!
What type of yarn do you enjoy spinning the most?
Fancy, composite "Art" yarns, but they must be functional, I can't bear the so called art yarns that don't balance and move when they are knitted into fabrics - hats that slip round your head are so uncomfortable!
There are some fantastic techniques for creating very decorative yarn; is there a case for yarns which just look beautiful, or do you feel that yarn should always be usable for a project?
I think like William Morris and believe all yarn should also be practical as well as beautiful. A skilled spinner should be able to produce both in one yarn! Sorry that's a bit controversial, but the band wagon of "Art Yarn" spinners has meant we have a whole new group of spinners, but not all of them understand basic techniques and we need to ensure we don't lose these skills.
Where can we see your work?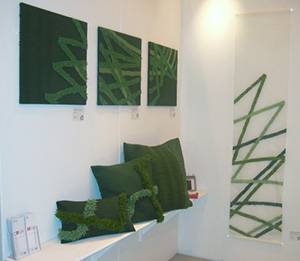 Most of my work is available online at: http://alisonyuletextiles.co.uk or my commercial designs can be found at: http://www.behance.net/AlisonYuleTextiles and my classes and workshops are listed at http://spinningandweaving.weebly.com I've exhibited across the country, including 100% Design; The Harley Gallery, Nottinghamshire; 78 Derngate, Northampton; The National Centre for Craft and Design, Sleaford; Leeds Craft Centre and Design Gallery.
Is there anything else you'd like to tell folk?
I'm very keen to ensure my practice is sustainable and have been practicing sustainability for as long as I can remember, before it was popular. I have a Sustainability Policy and Environmental Policy and last year I was awarded the Environmental Quality Mark from the Peak District National Park.
Alison is also co-author of Creative Spinning. You can also contact Alison on 07813 068722 or at alison@alisonyuletextiles.co.uk
---
Free patterns
A selection of free seasonal patterns which will work well with handspun yarn.
I've selected more free knit and crochet patterns this month over at HSN's sister publication, Purl Two Together

discuss any of this
---
Events 2013
Courses and tuition
Please let me know if you are or you know a tutor with a calendar of events.

discuss any of this
---
Happy spinning and don't be a stranger!
Shiela Dixon - Editor / curator
If you're reading this newsletter on the web and would like it delivered to your email inbox for free every month, just fill in your email address in the box somewhere up there on the right. If you've reading this in your inbox and would prefer not to receive any more, just use the Mailchimp 'unsubscribe' link at the foot of the email.

A PeacockMedia publication
---
Be sociable
Please share HSN with your friends:
Find me (Shiela) on:
Archive

The current issue and previous ones are in pdf format at Issuu.com.