Hand

Spinning News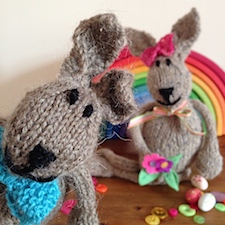 Easter is just around the corner and of course Wonderwool Wales. It's lambing time too and as usual at this point I haven't been able to resist posting some cute lamb pictures
An interesting theme running through this month's picks is gradient yarn. If you're interested in the articles about long gradient dyeing or gradient spinning, one of our free patterns this month looks great in a gradient.
Thank you to all who entered the draw for a copy of new book Yarn Works. If you like to get creative with your spinning techniques then you may like another new book featured this month, Spinning & Dyeing Yarn by Ashley Martineau. Once again I have a copy to give away.
Read on for this month's round up of spinning news, reviews, fun and freebies.
Photo above right: Dangly bunny pattern by Sarah Knight.
Contents
---
News, resources and articles from around the web
---

discuss any of this
From Blogland
---

discuss any of this
Tips and tutorials
---

discuss any of this
Keeping this wheel spinning
Gallery
Sometimes just a picture is enough
---
Free patterns
A selection of free seasonal patterns which will work well with handspun yarn.

discuss any of this
---
Events 2014
Courses and tuition
Please let me know if you are or you know a tutor with a calendar of events.

discuss any of this
---
Happy spinning and don't be a stranger!
Shiela Dixon - Editor / curator
If you're reading this newsletter on the web and would like it delivered to your email inbox for free every month, just fill in your email address in the box somewhere up there on the right. If you've reading this in your inbox and would prefer not to receive any more, just use the Mailchimp 'unsubscribe' link at the foot of the email.

A PeacockMedia publication
---
Be sociable
Please share HSN with your friends:
Find me (Shiela) on:
Archive

The current issue and previous ones are in pdf format at Issuu.com.