Hand

Spinning News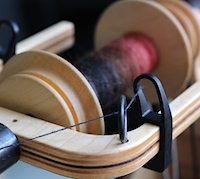 This issue lands in the middle of the Tour de Fleece, a worldwide spinning event that runs alongside a sporting event with a similar name. Spinners find different ways to take part. There are few rules - to spin every day that the cyclists are spinning and to challenge yourself.
It really does get people spinning and there are so many great blog posts that I'll include some this month and some next month.
Looking ahead, I'm very pleased to have registered Team HSN UK for Spinzilla 2015. If you're interested in some competitive distance-spinning then find out more below.
Ecological matters arise this month, needleandspindle looks at the number of miles that 'local' commercial yarn travels and if you're processing your own fleece, using a suint vat may save energy.
With Summer in mind the gallery this month includes some Summer tops and the patterns include a reclaimed-material carry-all and a soft Kindle cover.
This is the free, edited version of Hand Spinning News for July 2015. Details of how to receive the full version earlier in the month are at the bottom.
Photo right: Withwool, first week of Tour de Fleece. Cover photo Spinning, Dorse Tribe, Ethiopia [Public domain], via Wikimedia Commons
Contents
Tour de Fleece
---

discuss any of this
In the news
---

discuss any of this
From the Blogosphere
Online spinning events
---

discuss any of this
Tips and tutorials
---

discuss any of this
Keeping this wheel spinning
Gallery
Sometimes just a picture is enough
---

discuss any of this
Free patterns
A selection of free seasonal patterns which will work well with handspun yarn.
---

discuss any of this
Not-so-free patterns
---

discuss any of this
Events 2015
---
Happy spinning and don't be a stranger!
Shiela Dixon - Editor / curator
If you're reading this newsletter on the web and would like it delivered to your email inbox for free every month, just fill in your email address in the box somewhere below. If you've reading this in your inbox and would prefer not to receive any more, just use the Mailchimp 'unsubscribe' link at the foot of the email.

A PeacockMedia publication
---
Be sociable
Please share HSN with your friends:
Find me (Shiela) on:
Archive

Previous issues are now archived here: