Hand

Spinning News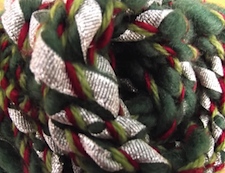 We're at the end of the year once again, wondering where the time has gone. I hope it has been a happy and productive one for you.
So as the year draws to a close and a new one begins, may I wish you a happy Christmas and great 2015.
But first, read on for our forage into this month's festive fibrey fun.
Photo right: Christmas tree yarn by Rose Davidson.
Contents
News and Blog Posts
---

discuss any of this
Tips and tutorials
---

discuss any of this
Keeping this wheel spinning
Gallery
Sometimes just a picture is enough
---

discuss any of this
Free patterns
A selection of free seasonal patterns which will work well with handspun yarn.
---

discuss any of this
Happy spinning and don't be a stranger!
Shiela Dixon - Editor / curator
If you're reading this newsletter on the web and would like it delivered to your email inbox for free every month, just fill in your email address in the box somewhere up there on the right. If you've reading this in your inbox and would prefer not to receive any more, just use the Mailchimp 'unsubscribe' link at the foot of the email.

A PeacockMedia publication
---
Be sociable
Please share HSN with your friends:
Find me (Shiela) on:
Archive

The current issue and previous ones are in pdf format at Issuu.com.