Hand

Spinning News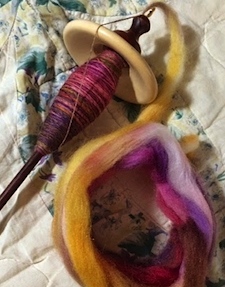 "Sock. The most beautiful thing in the world." So says Cheeky Red Head about hand-knitted socks this month and I'm sure many of us agree. And just the job now that the weather is cooling down a little.
To keep the middle cosy, how about a wool skirt? In this month's free patterns include a round-up of knit and crochet skirt patterns suitable for handspun yarn.
Read on for the usual round up of spinning news, reviews and fibrey fun.
Photo above right: Latest pair of socks, Get a Clew.
Contents
News and Blog Posts
---

discuss any of this
Tips and tutorials
---

discuss any of this
Reviews
---

discuss any of this
Keeping this wheel spinning
Gallery
Sometimes just a picture is enough
---

discuss any of this
Free patterns
A selection of free seasonal patterns which will work well with handspun yarn.
---

discuss any of this
Events 2014
---
Happy spinning and don't be a stranger!
Shiela Dixon - Editor / curator
If you're reading this newsletter on the web and would like it delivered to your email inbox for free every month, just fill in your email address in the box somewhere up there on the right. If you've reading this in your inbox and would prefer not to receive any more, just use the Mailchimp 'unsubscribe' link at the foot of the email.

A PeacockMedia publication
---
Be sociable
Please share HSN with your friends:
Find me (Shiela) on:
Archive

The current issue and previous ones are in pdf format at Issuu.com.