Hand

Spinning News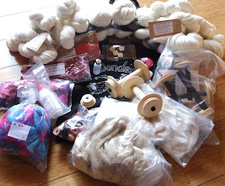 Wonderwool Special
Last month saw the Wonderwool Wales festival and in this month's HSN I've included my own 'postcard from Wonderwool' as well as pictures and reviews from other bloggers.
If you like the look of that then there are more 2013 UK events in the regular Events listing.
Alongside that there's the usual monthly feast of free patterns, finished projects and other fibrey things.
(photo right: Sassy Spinner's haul from the festival.)
Top Stories
Contents
---
Wonderwool Wales
---

discuss any of this
News, resources and articles from around the web
---

discuss any of this
From the blogosphere

discuss any of this
---
Gallery
Sometimes just a picture is enough

discuss any of this
---
Free patterns
A selection of free seasonal patterns which will work well with handspun yarn.
I also selected free knit and crochet patterns over at HSN's sister publication, Purl Two Together. The new issue will be available very shortly.

discuss any of this
---
Events 2013
Courses and tuition
Please let me know if you are or you know a tutor with a calendar of events.

discuss any of this
---
Happy spinning and don't be a stranger!
Shiela Dixon - Editor / curator
If you're reading this newsletter on the web and would like it delivered to your email inbox for free every month, just fill in your email address in the box somewhere up there on the right. If you've reading this in your inbox and would prefer not to receive any more, just use the Mailchimp 'unsubscribe' link at the foot of the email.

A PeacockMedia publication
---
Be sociable
Please share HSN with your friends:
Find me (Shiela) on:
Archive

The current issue and previous ones are in pdf format at Issuu.com.