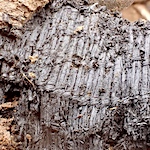 Ancient grass mat artifacts found
It's likely that people worked with plant fibres for many thousands of years but it's hard to know for sure because fibre artefacts are fragile and rarely preserved.

Archaeologists found some remarkably well-preserved fragments of woven matting, believed to be 3,000 years old. They originally covered the floor of a dwelling near Karluk Lake on Kodiak Island.
www.ancient-origins.net/news-history-archaeology/kodiak-alutiiq-0019224