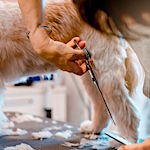 Dog hair is making a resurgence as a sustainable textile
It has been proposed that making clothes from dog fur is an environmentally-friendly alternative to sheep's wool or cotton. Entrepreneur Ann Cathrin Schönrock says that Germany throws away 1,600 tons of dog fibre.

The idea isn't new. Historically, dogs have been bred for their hair. This article from Time has the history and the proposal.