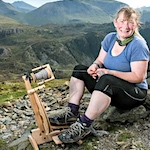 Spinner spins 1.1km of yarn on Wainwright's 214 peaks
Susan Denham-Smith has taken spinning in public to extremes by climbing the 214 Wainwright fells with her portable Louet Victoria . She has spun 30 skeins of yarn measuring 0.6 miles (1.1km) which will be woven into a rug that will support a Lake District centre for children and adults with disabilities.

"The biggest challenge overall was finding somewhere stable to sit and spin on the summits", says Susan.