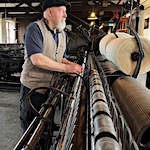 Museum's old school mule is still alive and kicking
This is Derek Bird who has experience building textile machinery and was drafted in to help get Leeds Industrial Museum's Victorian spinning mule running again.

The museum was once the world's largest woollen mill. This article has lots of information about the museum and the machinery.
news.leeds.gov.uk/news/museums-old-school-mule-is-still-alive-and-kicking