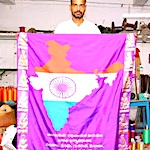 National anthem on silk fabric without a stitch
Veldi Hari Prasad made the news recently with his light-as-air saris that fit inside a matchbox.

Here he has woven his national anthem along with a tricolour India map with the Ashok Chakra and women in the Namaskar posture along the borders. All without stitching or printing.
telanganatoday.com/national-anthem-on-silk-fabric-without-any-stitch