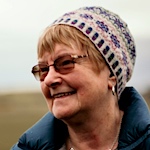 Shetland Wool Week 2020 patron and hat pattern launched but event cancelled
The Patron and official pattern for Shetland Wool Week 2020 were announced shortly before the announcement of the cancellation of this year's event.

The pattern has already been downloaded 27,000 times. Although the pattern is still free to download, the organisers are inviting a voluntary donation to help the organisers, the Shetland Amenity Trust, to help them cope with the current challenges. There will be a printed version available.

There is a knit-a-long Facebook group.

This year's patron is Shetland knitwear designer, Wilma Malcolmson.

Wilma is the designer of the 2020 pattern, which is called Katie's Kep. It's available for free download via the page linked below, where there is also an interview with Wilma.
shetlandwoolweek.com/shetland-wool-week-2020-patron-and-hat-pattern-launched