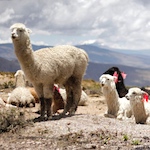 Alpaca - more prized than gold by the Incas, still scorned by the west
If you're new to spinning and have yet to try spinning alpaca, then this is a good introduction.

In inhospitable regions, as with sheep, alpaca can help turn inedible vegetation into food and clothing.

Veronica Kassatly writes that alpaca is expensive, but alpaca is also cheap, depending how you look at it. In this first part of a series, she introduces the animal. In parts two and three she looks at the claims about welfare made by PETA.
fibershed.org...alpaca-more-prized-than-gold-by-the-incas-still-scorned-by-the-west