Hand

Spinning News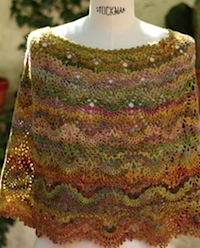 The Tour de Fleece has now finished, The idea is to spin every day that the cyclists are spinning and to challenge yourself. It's very hard to choose some favourite posts because there are so many to choose from. It clearly does get people spinning and has some momentum - with spinners promising to continue spinning a little each day.
I've collected together a few of my favourites and the Tour de Fleece freewheels through the blog posts, patterns and tips this month.
There are also a couple of items about Fibre East, another of this year's wool events. New things to learn: slip stitch colourwork and inkle weaving.
Another mention for Team HSN UK for Spinzilla 2015. If you're interested in some competitive distance-spinning then find out more below. Spinner registration starts September 1.
This is the free edited version of Hand Spinning News for August 2015. Details of how to receive the full version earlier in the month are at the bottom.
Photo right: reglissemint's Lacy Caplet.
Contents
Tour de Fleece
---

discuss any of this
Fibre East
---

discuss any of this
In the news
---

discuss any of this
From the Blogosphere
Online spinning events
---

discuss any of this
Tips and tutorials
---

discuss any of this
Products
---

discuss any of this
Keeping this wheel spinning
Gallery
Sometimes just a picture is enough
---

discuss any of this
Free patterns
A selection of free seasonal patterns which will work well with handspun yarn.
---

discuss any of this
Not-so-free patterns
---

discuss any of this
Events 2015
---
Happy spinning and don't be a stranger!
Shiela Dixon - Editor / curator
If you're reading this newsletter on the web and would like it delivered to your email inbox for free every month, just fill in your email address in the box somewhere up there on the right. If you've reading this in your inbox and would prefer not to receive any more, just use the Mailchimp 'unsubscribe' link at the foot of the email.

A PeacockMedia publication
---
Be sociable
Please share HSN with your friends:
Find me (Shiela) on:
Archive

Previous issues are now archived here: