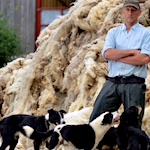 NFU backs 'much-needed' wool insulation campaign
Below you'll see some stories about the sad state of affairs regarding the price of wool.

On the more positive side, the NFU has backed a petition which calls for real British wool to be used in the government's new home insulation scheme and carpeting in any public financed building projects.

The petition itself is here. I've added my name, please add yours. As I write this, the petition has more than 23,000 signatures of the required 25,000.
www.farminguk.com/news/nfu-backs-much-needed-wool-insulation-campaign_56215.html