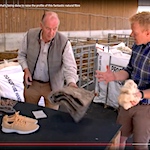 What's being done to raise the profile of this fantastic natural fibre?
You may well have seen this on TV on 11 July, but in case you missed it, Adam met Campaign for Wool's COO Peter Ackroyd to discuss the issues wool has faced due to Covid and demonstrated a number of innovative products that are using the wonderful fibre wool.

As well as the video, this page also describes a number of products that were briefly shown on the screen but not discussed.
www.campaignforwool.org...whats-being-done-to-raise-the-profile-of-this-fantastic-natural-fibre