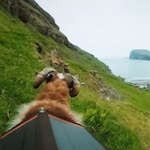 Sheep put the Faroe Islands on the map
The Faroe Island archipelago is comprised of 18 rocky islands situated about half way between Scotland and Iceland.

More sheep live there (about 80,000 it turns out) than people.

In what looks suspiciously like a publicity stunt, Google have mounted their Streetview cameras onto some sheep in order to capture the beauty of the place. An entertaining video nonetheless, and an interesting glimpse of the place.

At time of writing, Google Maps' street view is available for the Faroe islands and you can explore away from the tarmac roads if you drop the little man onto one of the circles to see a 'photosphere'. But these appear to have been made by humans because you can see shoes or a tripod when you look down.