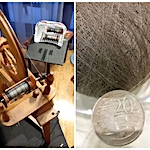 Longest thread competition winner
The winner of the 2019 longest thread competition was Julitha Barber of Australia.

Julitha spun and plied an amazing 986m from just 10gms of Merino.

This was back in March. The reason that I'm mentioning it now is that the story appears in the latest copy of The Wheel magazine which landed on my mat today. It contains a very good article with more photographs and a useful list of tips from Julitha herself.

I'm linking to the story on Ashford's website. The full article as it appears in the magazine doesn't seem to exist online anywhere, but I do recommend this new issue of The Wheel. It has a new look, is bigger and contains so many enticing projects and articles. I have to say that I'm really impressed. You can subscribe for a glossy heavyweight copy, or you can ask for a free copy on lower-quality paper from your Ashford dealer when you place an order.
https://www.ashford.co.nz/news/512-longest-thread-competition-winner