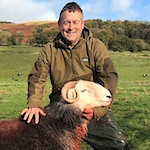 Could I Regenerate My Farm to Save the Planet?
In case you haven't heard this programme already, it's available for another couple of weeks from the point that I'm writing this.

Surprisingly, farming contributes significantly to climate change. In the UK, it contributes 10% of greenhouse gas emissions.

James Rebanks, aka Herdy Shepherd, asks whether he can transform his farming techniques and become economically sustainable while working more closely with nature.