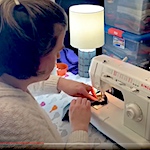 The story behind those famous mittens: meet Jen Ellis
Jen Ellis is the maker of Bernie Sanders' now very famous mittens. Similar mittens that she has donated to charity have raised large amounts of money, and sadly has been the victim of other people selling items in her name.

They are sewn from repurposed jumpers and lined with fleece made from recycled bottles. Her own Twitter feed contains this video which is more of an advert for Singer (who have given her a better sewing machine). It does show a little of how she creates her mittems, read her full Twitter feed for more of her story.