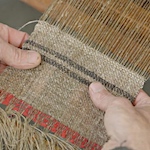 The Nettle Dress
We often consider nettles a weed but they are nutritious and contain a usable fibre.

Allan Brown became curious about how this fibre would have been processed and used in the past with the tools that were available at the time.

Dylan Howitt's first film, Nettles for Textiles, followed Allan as he gathered nettles, retted, carded spun and dyed them. It's a worthwhile 15-minute watch.

Allan wants to make a dress by hand and film the whole process. The crowdfunding campaign met its goal in December. You can see the preview on the kickstarter page at the link below.
www.kickstarter.com/projects/nettledress/the-nettle-dress/description