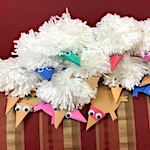 The Heritage of Green Hills celebrates start of summer with snowball fight
Here's a heartwarming story, and maybe an activity idea.

Senior residents at independent living community Heritage of Green Hills engaged in an epically silly summer solstice snowball fight.

Afterwards, the yarn snowballs were given faces to transform them into hedgehogs and hidden in the grounds for residents to find.
www.bctv.org...heritage-of-green-hills-celebrates-start-of-summer-with-snowball-fight