Hand

Spinning News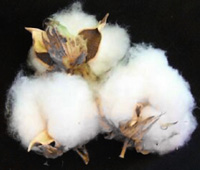 Welcome to the Midsummer Hand Spinning News; we don't have enchanted forests or love potions but we may be away with the fairies at times, and we do have a spinning-related fairy tale.
Cotton is a summery fibre, important in our history but maybe a little neglected now among spinners. It pops up among this month's internet offerings along with supported spindles, some butterfly-related posts and some delightful archive finds.
We have reports from recent woolly shows and dates for more to come. There are also a couple of online events that you could take part in wherever you are.
This is the free, edited version of Hand Spinning News for June 2015
Photo right: Cotton bolls, Schacht Spindle Blog and Cotton Clouds. Cover photo Spinning, Dorse Tribe, Ethiopia [Public domain], via Wikimedia Commons
Contents
From the Blogosphere
Online spinning events
---

discuss any of this
Tips and tutorials
---

discuss any of this
Keeping this wheel spinning
Gallery
Sometimes just a picture is enough
---

discuss any of this
Free patterns
A selection of free seasonal patterns which will work well with handspun yarn.
---

discuss any of this
Not-so-free patterns
---

discuss any of this
Events 2015
---
Happy spinning and don't be a stranger!
Shiela Dixon - Editor / curator
If you're reading this newsletter on the web and would like it delivered to your email inbox for free every month, just fill in your email address in the box somewhere below. If you've reading this in your inbox and would prefer not to receive any more, just use the Mailchimp 'unsubscribe' link at the foot of the email.

A PeacockMedia publication
---
Be sociable
Please share HSN with your friends:
Find me (Shiela) on:
Archive

Previous issues are now archived here: