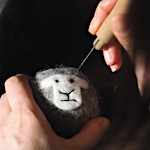 Have you had a light bulb moment for the next best thing for wool?
Two historical companies run the annual Wool Innovation Prize with an award of £10,000 for the most innovative use of wool.

Last year's winner was Sarah from Little Beau Sheep. This is her story. If you have an idea, the 2020 prize is open for submissions.