Hand

Spinning News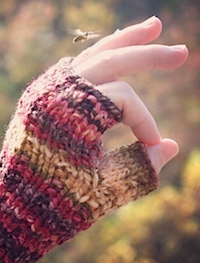 As we pick up the pieces after Spinzilla, we clearly haven't stopped spinning though we may have been spending more time knitting with the monster pile of yarn.
As the weather is getting nippier, it's a happy coincidence that the patterns this month and finished projects include a few cardigans.
October was Slow Fashion October and this month is - what else? Wovember. Read on to find out about these projects plus loads more.
This is the free edited version of Hand Spinning News for November 2015.
Photo right: Handspun Mitt and Bee by knitpotion. Cover photo Wang Juzheng's Spinning Wheel (public domain)
Contents
News & Events
---

discuss any of this
From the Blogosphere
---

discuss any of this
Tips and tutorials
---

discuss any of this
Reviews
---

discuss any of this
Keeping this wheel spinning
Gallery
Sometimes just a picture is enough
---

discuss any of this
Free patterns
A selection of free seasonal patterns which will work well with handspun yarn.
---

discuss any of this
Not-so-free patterns
---

discuss any of this
Happy spinning and don't be a stranger!
Shiela Dixon - Editor / curator
If you're reading this newsletter on the web and would like it delivered to your email inbox for free every month, just fill in your email address in the box somewhere below. If you've reading this in your inbox and would prefer not to receive any more, just use the Mailchimp 'unsubscribe' link at the foot of the email.

A PeacockMedia publication
---
Be sociable
Please share HSN with your friends:
Find me (Shiela) on:
Archive

Previous issues are now archived here: