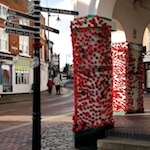 Town centres decorated with thousands of knitted poppies
If you're reading the full version of this issue, Remembrance day has just been and gone. The news had many examples of town centres yarnbombed with poppies.

My picture and the main link is Godalming. Also there are stories from Walsham-le-Willows , Wootton Bassett, Reigate and Redhill , Strathaven Castle and a Canadian tribute.

Some of these are reminiscent of the Tower of London ceramic poppies, but it's so good to see communities becoming involved in crafting such projects, sometimes secretly.
www.itv.com...town-centre-decorated-with-thousands-of-knitted-poppies