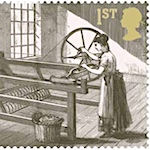 New sign and stamp recognise home of the Spinning Jenny
The village of Stanhill, Accrington, Lancashire recently celebrated the 300th anniversary of the birth of James Hargreaves, who invented the Spinning Jenny.

A sign has been erected at the entrance to the village to mark the date. Royal Mail has also issued stamps to commemorate the Industrial Revolution, including one featuring the Spinning Jenny.
www.inyourarea.co.uk...stamp-recognise-stanhill-village-home-of-the-spinning-jenny