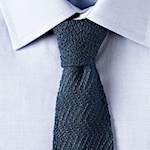 Bolt Threads debuts its first product, a tie made from spider silk
The tie shown here is made from spider silk. But not harvested from actual arachnids. It's one of the first products from Bolt Threads.

Scientists have been trying for a long time to reproduce the incredibly tough yet soft material. Previous (slightly horrific) ideas include producing it in the milk of genetically enhanced goats and genetically tweaking silkworms to make their silk more like the tougher spider silk.

As previously reported, the silk of golden orb spiders has been harvested, spun and woven. but they're difficult to farm because the spiders are cannibals. Bolt's latest process involves yeast.

For those fascinated by the technology, there is a collection of pictures of Bolt's lab here which will appeal to Breaking Bad fans. There's also an excellent picture there of a couple of inches of their yarn.

For the sharp-dressed man in your life, the tie costs $314.
techcrunch.com...bolt-threads-debuts-its-first-product-a-314-tie-made-from-spiderwebs/