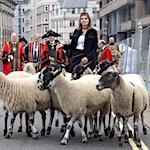 Sheep drive and livery fair, Southwark Bridge
"Sheep are central to my life and this celebration of them will be a day to remember," said Amanda Owen, The Yorkshire Shepherdess after leading the Annual Sheep Drive on 26 September 2021.

The historic Southwark Bridge was traffic-free for the day and the ceremony follows an ancient right to drive sheep over the Thames and into the City.

This page contains a gallery and links to a "ewetube" video of the BBC news report.