Hand

Spinning News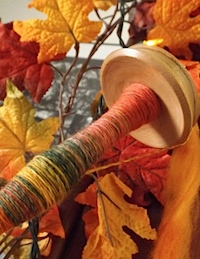 I'm not the person you should turn to for fashion advice, but I read that this autumn's scarf style is for solid, restrained colours with cables and so there are plenty of patterns and inspiration along those lines this month.
This month's harvest of spinning stories includes several on the topic of home-grown dye plants along with a boy scout song about woad.
The amazing news is that team HSN UK for Spinzilla 2015 now exists and registration has been more successful than I dared hope. Spinner registration started on September 1 and the team filled in a couple of days.
Something I didn't do but now wish I had is the Tour of British Fleece. Collecting the british fleece breeds sounds as much fun as spinning them as the cyclists pass through the related area.
This is the free edited version of Hand Spinning News for September 2015. Scroll to the bottom for details of how to subscribe to the full version
Photo right: aspenmoonarts's spinning and matching table decoration. Cover photo, gefärbte Wolle - dyed wool by saharadesertfox
Contents
In the news
---

discuss any of this
Tour of British Fleece
---

discuss any of this
From the Blogosphere
Online spinning events
---

discuss any of this
Tips and tutorials
---

discuss any of this
Products
---

discuss any of this
Keeping this wheel spinning
Gallery
Sometimes just a picture is enough
---

discuss any of this
Free patterns
A selection of free seasonal patterns which will work well with handspun yarn.
---

discuss any of this
Not-so-free patterns
---

discuss any of this
Events 2015
---
Happy spinning and don't be a stranger!
Shiela Dixon - Editor / curator
If you're reading this newsletter on the web and would like it delivered to your email inbox for free every month, just fill in your email address in the box somewhere below. If you've reading this in your inbox and would prefer not to receive any more, just use the Mailchimp 'unsubscribe' link at the foot of the email.

A PeacockMedia publication
---
Be sociable
Please share HSN with your friends:
Find me (Shiela) on:
Archive

Previous issues are now archived here: