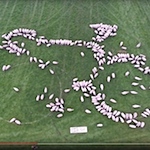 Sheep stunt for the Tour of Britain
Thanks to Madeline and Ellie who both tipped this story.

Nottinghamshire farmers created this living sculpture of a bicycle from grazing sheep in order to highlight food production and health as stage 4 of the Tour of Britain passed by.

As you might guess, the sheep weren't trained but were attracted to tasty food arranged in the bicycle shape.

The NFU news story has links to a Facebook page containing some 'making of' photographs, and there's a video containing some dodgy puns and drone footage of the result.
https://www.nfuonline.com...sheep-stunt-for-the-tour-of-britain