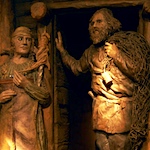 Arctic people were spinning yarn before the Vikings arrived
The thing that surprises me most about this story is that historians thought that the ancestors of the Inuit didn't know how to spin yarn until the Norse arrived in around 1,000AD

As archaeologist Michele Hayeur Smith says, "the idea that you would have to learn to spin something from another culture was a bit ludicrous, It's a pretty intuitive thing to do."

She had noticed that samples of yarn from the area were of a different construction from Viking yarn.

It's now been possible to carbon-date the samples, which wasn't possible until they'd developed a process to remove whale and seal oil. This has shown that the yarn predates the Norse settlers.
www.digitaljournal.com..arctic-people-were-spinning-yarn-before-the-vikings-arrived...