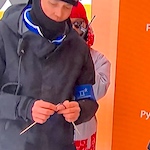 Knitting makes appearances at the winter games
With Pyeongchang experiencing temperatures way below zero, it's no surprise that knitwear has made some appearances.

Knithacker Danielle has gathered a couple of examples - official team outerwear for the Canadian team and snowboarding coach Antti Koskinen bringing out the needles to lighten spirits.

[Update] Team USA wearing Oregon wool hats, gloves and sweaters at opening and closing ceremonies. And the entire Finnish team are knitting squares to make a blanket as a gift for their president and his wife.


knithacker.com/2018/02/knitting-makes-lots-of-appearances-at-the-2018-olympics