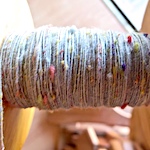 Tour de Fleece is Here Again!
With thanks to Goldilox for the first Tour-de-Fleece blog post that I saw. On the first day of the Tour she documented the progress of this tweed yarn.

She used merino fleece, dyed with home-grown woad, blended with "lots of naturally-dyed leftovers".

The details of the carding are here in pictures and words.
http://goldyspinner.blogspot.com/2018/07/tour-de-fleece-is-here-again.html