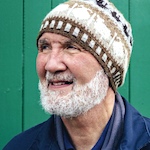 Entries sought for 'Shetland crofter' photo competition
Entries for Shetland Amenity Trust's "Seasons of the Shetland Crofter" competition close on 21 July.

The competition is being run by Jamieson & Smith in collaboration with the amenity trust which runs Shetland Wool Week.

You do not have to be a professional photographer or a crofter to win, just submit a photo or video that reflects an aspect of life on a Shetland croft.

More information is at the link below.
www.shetlandtimes.co.uk/2019/07/03/entries-sought-for-shetland-crofter-photo-competition