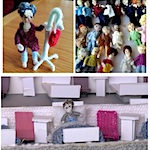 'Knittingale Hospital' to raise money for NHS
Margaret Seaman, who has previously made fundraising dioramas of Great Yarmouth's Golden Mile and Sandringham House, is still busy, this time with a 'Knittingale Hospital'.

It's still a work in progress, but there's a lovely video interview with Margaret on the ITV site, along with some shots of her new work.

Funnily enough, even though I'm from Norfolk myself and have met Margaret in person, I first saw this story on an American news site, so she's hitting the global headlines!
www.itv.com/news/anglia/...knittingale-hospital-to-raise-money-for-nhs