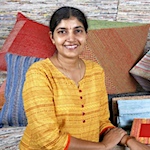 Weaving a sustainable future with yarn made from paper
Neerja Palisetty's finished items are stunning and it's hard to believe that they're made from waste paper.

"Our products are 100 percent handmade and handcrafted, and with minimal use of electrically operated machines", she says.

The paper is cut into thin strips, twist added using a charkha and then woven using either cotton or silk warp, in both cases waste materials.
yourstory.com/2018/04/shes-weaving-sustainable-future-yarn-made-paper