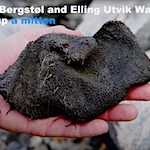 The hunt for the lost mountain pass
This rather grungy mess is a woollen mitten, sewn together from pieces of other textiles.

It's one of many pieces of textile found at one site as glaciers melt due to global warming, exposing ancient artefacts which tell a story. This patch of melting ice at Lendbreen pass includes horse dung, horseshoes, bits, knives spears and indicates a trade route over the mountain pass.

A complete Iron Age tunic, dated to AD 300 is said to be the oldest piece of clothing found in Norway.