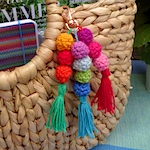 Yarning for Yarndale
It's very unlikely that you won't have heard about Yarndale or the serious amount of bunting, yarnbombing and charity projects that go on around the event.

This year's event is the seventh and will happen on 28 and 29 September. As a taster, Lucy has revealed the small pattern to be included in the brochure, which is this bag charm.

She also discusses this year's charity project which is a crochet bear, there's a link to the full tutorial.

There's also a crochet sheep pattern and a sneaky peeky at some of the pieces she's been making for the yarnbombing.
attic24.typepad.com/weblog/2019/08/yarning-for-yarndale.html