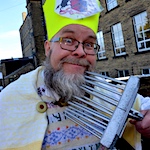 St Blaise Wool Festival hailed a success
This chap is depicting St Blaise, patron saint of wool combers and divine intervener in cases of objects stuck in the throat.

The saint's grizzly end involved wool combs, which were apparently used in medieval torture.

His feast day is 3 February. This year Bradford held a St Blaise Wool Festival, the first since 1825. This picture is one of five which show revelers enjoying apacas, spinning demonstrations, activities and stalls.
www.thetelegraphandargus.co.uk....st-blaise-wool-festival-hailed-a-success