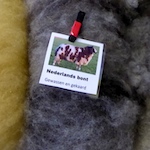 Midwinterwol - a Dutch festival of fibre
After a very busy time sending out copies of her calendar, Fran decided to pack for a trip to visit Midwinterwol.

The wool on display came from some familiar breeds of sheep and some less so. The event wasn't on the scale of Wonderwool Wales but featured fibre, yarn, livestock, demonstrations. Fran's photos are a good record of her trip and review of the festival.
wooltribulations.blogspot.com...midwinterwol-dutch-festival-of-fibre.html