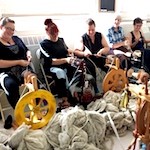 25th International Back to Back Wool Challenge, 2019 results
This is the San Diego County Spinners. Congratulations to them for winning the 2019 challenge and setting a new USA record time.

The Back to Back Challenge is an annual event that challenges teams of woolcrafters around the globe to create a jumper directly from a sheep's back to a human's back in the shortest time possible. Each team consists of seven spinners / knitters and one blade shearer.

The 2019 results and times are at the link below.