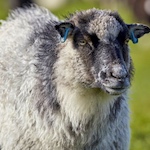 Shetland Islands: Windy, woolly wonder
This is a travel article that appears on an American newspaper's website.

It's a very good read. Nellie Hermann visited the Shetlands during Shetland Wool Week in September last year.

There are plenty of facts about the Islands: did you know that the sheep outnumber people 20:1, but only a proportion of these are native Shetland sheep?

Nellie writes a wonderful description of the place, and emphasises the importance of tourism and in particular, Wool Week.
www.nwaonline.com/news/2019/mar/03/wind-wool-and-wonder-20190303