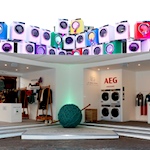 Wool Week takes over London's Covent Garden with colored washing machines
This year's Wool Week stunts included this colourful washing machine installation in Covent Garden.

The message may not be obvious. "When you wash wool, you're not creating micro-plastics. Wool biodegrades naturally in the sea" said Campaign for Wool's Peter Ackroyd. He added that it's more washable than people think.
wwd.com...wool-week-takes-over-londons-covent-garden-colored-washing-machines...